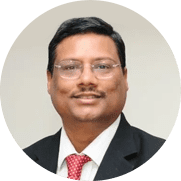 Shri Alok Kumar
I.A.S
Principal Secretary, Department of Medical Education, Uttar Pradesh
Welcome to Mission Niramaya - a transformative initiative that has been envisioned by the Honorable Chief Minister of Uttar Pradesh, Shri Yogi Adityanath, with the unwavering support of our dynamic team. As the Principal Secretary of Medical Education in Uttar Pradesh, it gives me immense pleasure to introduce you to this ambitious program that seeks to revolutionize medical education and uplift the healthcare sector in our state.
Mission Niramaya is more than just a project; it is a commitment to excellence and a dedication to nurturing a skilled workforce of nurses and paramedical professionals who will serve as the backbone of our healthcare system. Our ultimate goal is to create an ecosystem that fosters innovation, transparency, and inclusivity.
Through this platform, we aim to provide aspiring students with the knowledge and guidance they need to embark on a fulfilling career in nursing and paramedical fields. Our rating mechanism for institutes ensures that quality standards are upheld and benchmarked against the best in the country.
As we embrace digitization and transparency in the examination process, we are empowering our students to succeed and flourish. We believe in fostering an environment where talent is nurtured, and potential is recognized.
At Mission Niramaya, we understand the significance of mentorship and collaboration. Through strategic partnerships with mentor institutes, we aim to uplift and elevate all institutions to excel in their respective domains.
I invite you to join us on this incredible journey of transformation. Together, let us forge a path towards a healthier and more prosperous Uttar Pradesh, where healthcare education knows no bounds.